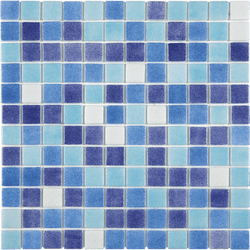 Foggy Nieblas Blend Jaen Pool Tile
This Outdoor Pool Tile is High quality and can be installed on a swimming pool, jacuzzi, spa, kitchen backsplash, bathrooms, showers, floors, and walls. This collection is made in Spain with 100 % recycled glass and meshes mounted on a 12.5 x 12.5 sheet. 

The individual tile sizes are 1"x1".

This product is sold by the sheet.

Frost Proof
thickness 4mm
Impervious to Liquids and Vapors. Resistant to fading, staining, and discoloration.
Shade and size variations are inherent characteristics in all mosaic and glass tile products.