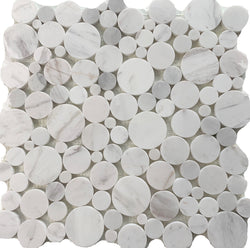 Marble Statuary Circles Tile
Marble Statuary Circles Mosaic Tile is a Mosaic composed of modern Circular Shapes. It is made of natural stone Marble and it comes with mesh mounted for easy installation. This Backsplash Tiles For the Bathroom have a variation since it's made of natural stones.
This tile is great for Accent Walls, Backsplash, Bathrooms, Shower Floors, and More.
Marble Statuary Circles

100% Marble

12" X 12" 

Mesh Mounted