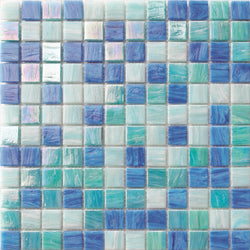 Pastel Blue Mix - 1" x 1" Glass Tile
Pastel Blue Mix - 1" x 1" Glass tile is a new collection that brings an iridescent finish, and the Smooth colors combined to create a gorgeous Tile Perfect for Pools, Bathrooms, or Walls. 
Product Specifications:
Frost Proof
1" x 1"  chip Size Glass Tile
 Sheet 12" x 12"
6mm Thickness / Approx. 2/48" Grout Joint
Mesh Mounted. Ready for Install
Impervious to Liquids and Vapors. Resistant to fading, staining, and discoloration
Shade and size variations are inherent characteristics in all mosaic and glass tile products. These variations are a trademark of hand-crafted quality and add to your individual mosaic's unique beauty.