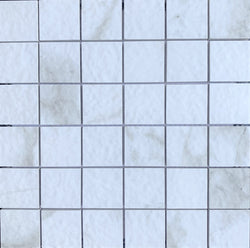 Carrara 2X2 Anti Slip Porcelain Tile
 Carrara 2X2 Anti Slip Porcelain Tile
Carrara 2X2 Anti-slip Porcelain Mosaic Tile is composed of 2X2 Porcelain Chips.
It's made of Porcelain. This Tile comes mesh mounted for easy installation. This finish is unpolished and great for Flooring and Outdoor.
This

Bathroom Mosaic Tile Backsplash 

is great for Accent Walls, Backsplash, Decorations Walls, Bathrooms, and Shower floors. and More. 
Carrara 2X2 Anti slip Porcelain

Frost Proof Porcelain

12" x 12"

Mesh Mounted