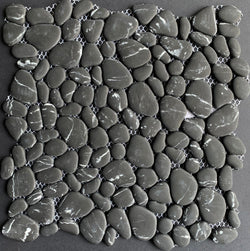 Pebble River Black Mosaic Tile is a Mosaic composed of Pebble Shapes. It is made of Glass to give a real effect of natural stones. It comes to mesh mounted for easy installation.
This

Backsplash Tiles For the Bathroom 

are great for Accent Walls, Backsplash, Bathrooms, Shower Floors, and More.
Pebble River Black

100% Glass

11.5" X 11.5"

Mesh Mounted