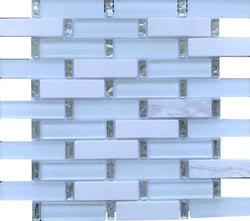 Snow White Glass and Stone Tile
Snow White Glass and Stone Mosaic Tile are composed of Brick Patterns and chips of 1x3.5. It has a frosted glass effect. It is made of Glass and Natural Stone. It has a little separation with Glass to contrast the white color with the Frosted finish. This Bathroom Mosaic Tile Backsplash comes to mesh mounted for easy installation.
This tile is great for Accent Walls, Backsplash, and Bathrooms. 
Snow White Glass and Stone
12"X12"

Mesh Mounted