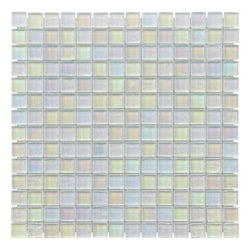 Snow White Glass Tile 1X1
The Snow White Tile 1x1 is a small, square-shaped tile commonly used in interior design and construction projects. It is made from high-quality ceramic or porcelain material and features a pristine, pure white color reminiscent of freshly fallen snow. The tile is precisely cut to measure 1 inch by 1 inch (2.54 cm by 2.54 cm), providing a versatile and compact element that can be combined with other tiles to create intricate patterns and designs.
Specs:
Frost Proof
6mm Thickness
Size: 3/4"x3/4"
Attached to a rectangular sheet measuring 12 inches by 12 inches.
Mesh Backing
Unaffected by liquids and vapors. Exhibits resistance to fading, staining, and discoloration.