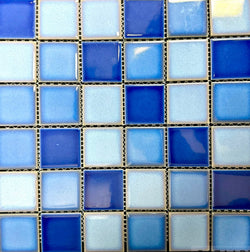 Caribbean Blue 2" x 2" Square Porcelain Mosaic Tile
Caribbean Blue 2" x 2" Square Porcelain Mosaic Tile
Elevate your living space with the timeless elegance of our Caribbean Blue 2x2 Porcelain Tiles. Crafted with precision and attention to detail, these square porcelain tiles bring a touch of luxury to any room. Here's what you can expect from this exquisite product:
The rich and vibrant Caribbean blue color adds depth and character to your space, making it perfect for both modern and classic design aesthetics.


Superior Quality: Our porcelain tiles are made to last, with a durable and low-maintenance design. They are resistant to stains, scratches, and water, making them ideal for high-traffic areas.
Versatile 2x2 Size: The 2x2 inch size allows for creative installation possibilities. Whether you're creating a mosaic masterpiece or covering a large area, these tiles offer flexibility in design.
Easy Installation: These tiles are designed for straightforward installation, saving you time and effort. They can be used for walls, floors, backsplashes, or accents with ease.
Endless Design Possibilities: Let your imagination run wild. Use them to add a pop of color in your pool, create a stunning jacuzzi, spa, and wall features, or craft intricate patterns to express your unique style.
Low Maintenance: With their smooth surface, these porcelain tiles are a breeze to clean and maintain, ensuring they retain their beauty for years to come.
Affordable Luxury: Enjoy the look of luxury without breaking the bank. Our cobalt blue porcelain tiles offer an affordable way to enhance your space.
TECHINAL SPECS:
Size of sheet: 12" by 12"
Thickness: 6mm
Material: Porcelain
Finish: Glazed
Mesh Mounted.
Frost Proof.
Pool Rated.