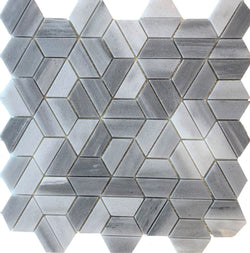 Crypto Hexagon Marble Tile
Crypto Hexagon Marble Mosaic Tile is composed of Patterns that create a futuristic hexagon shape. It's made of natural Stone Polished. These Backsplash Tiles come to mesh mounted for easy installation.

This tile is great for Accent Walls, Backsplash, Decorations Walls, Bathrooms, and Shower floors. and More. 
Crypto Hexagon Marble

Natural Stone Marble

12" x 12"

Mesh Mounted