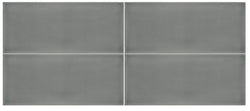 Dark Gray Gloss 4x10 Ceramic Tile- $7.79 per sqft
Dark Gray Gloss 4x10 Ceramic Tile
Dynamic living. Eruptions of color giving birth to a burst of style. A delicately understated glossy texture molding a white-bodied wall tile infused with diverse wellsprings of creativity: the horizontally aligned allure of subway tiles, the captivatingly imperfect elegance of rustic glazing, and the hues from an exquisitely sensorial palette.
Suitable for both residential and commercial spaces, our handmade texture subway ceramic tiles are an invitation to elevate interior designs. From backsplashes to feature walls, kitchens to bathrooms, their timeless appeal bridges the gap between tradition and modernity. With the ability to seamlessly complement a range of decor styles, these tiles empower you to craft environments that resonate with your unique vision.
Size: 4x10
Pcs Per Box: 34
Sqft per Box: 10
Finish: Gloss
Material: Ceramic
Thickness: 7.3 mm
Shade Variation: V3
Mounting Type: Loose pieces.