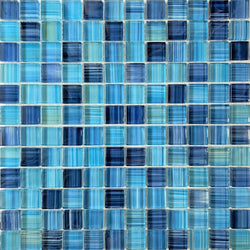 Kauai Blue has 3 different sizes that you can mix them together and form your perfect environment, It comes in 1"x1" chips sizes, 1"x2" chips sizes, and Mixed Sheet 1"x1" and 1"x2". 
These Classic Pool Tiles are suitable for Pools, Spas, jacuzzis, Fountains walls, Waterlines, Bathrooms, and Backsplash. 
The thickness of  the Tile is 8mm
This Tile is Mesh mounted
The Sheet Size is 12"x12"