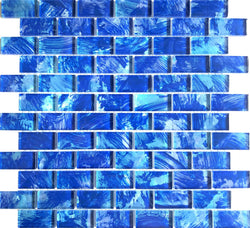 Storm Blue 1X2 Glass Tile Brings a Perfect Blue Color to Glass Mosaic Pool Tiles that can highlight your environment. It can be used in pools, Spas, Waterlines, Walls, Bathrooms, Showers, and Backsplash.
The thickness of  the Tile is 8mm
This Tile is Mesh mounted
The Sheet Size is 12"x12"
Frost Proof 
Impervious to Liquids and Vapors. Resistant to fading, staining, and discoloration

Shade and size variations are inherent characteristics in all mosaic and glass tile products

Pattern: 1"x2"
 Note: Select in The Options Tab, if you would like a Sample or The Full sheet tile.