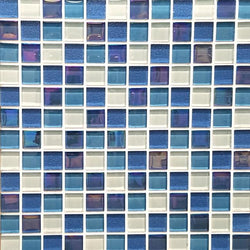 Summer Breeze 1X1 Glass Tile
Summer Breeze 1X1 Glass Tile   

This New Summer Breeze Collection is an Exquisite Tile made of glass suitable for swimming pool, shower walls, backsplash, Jacuzzi, and spa.
Made with translucent glass for a better reflection effect underwater. This tile also includes chips with an Iridescent finish that looks amazing with the reflection of the sun. This mosaic tile is mesh mounted and sold by the sheet.
Suitable for Pool Tile, waterlines, and Spas

%100 glass.

12" x 12" 

Frost Proof

French Pattern

1 sqft per Sheet

Impervious to Liquids and Vapors. Resistant to fading, staining, and discoloration.

Shade and size variations are inherent characteristics in all mosaic and glass tile products.