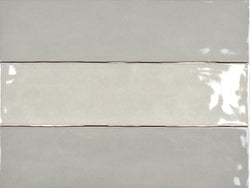 Light Grey Oslo Ceramic Tile 3x12 - $6.90 per sqft
Light Grey Oslo Ceramic Tile 3x12
Presenting our remarkable handcrafted appearance subway ceramic tile, a genuine representation of craftsmanship and heritage.
The fusion of classic and modern design elements is beautifully showcased in our Handmade look Subway Ceramic Tiles. With a rectangular format that pays homage to the iconic subway tile style, these tiles evoke a sense of familiarity while opening up a world of creative design opportunities. The edges, delicately beveled, contribute depth and character to every tile, providing an elegant finishing detail to enhance any installation.
Suitable for both residential and commercial spaces, our handmade subway ceramic tiles are an invitation to elevate interior designs. From backsplashes to feature walls, kitchens to bathrooms, their timeless appeal bridges the gap between tradition and modernity. With the ability to seamlessly complement a range of decor styles, these tiles empower you to craft environments that resonate with your unique vision.
Size: 3x12
Pcs Per Box: 50
Sqft per Box: 12.70
Finish: Gloss
Material: Ceramic
Thickness: 7.3 mm
Shade Variation: V3
Mounting Type: Loose pieces.